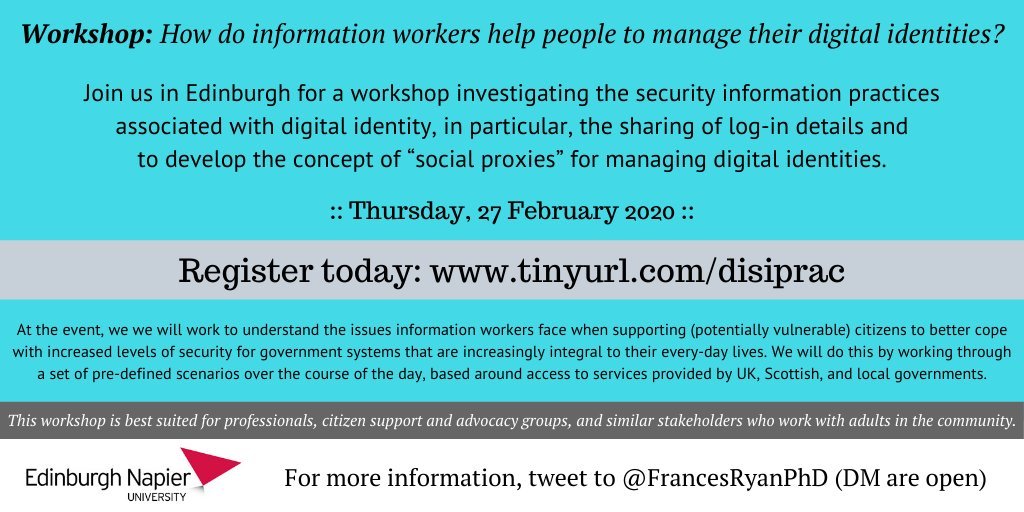 On Thursday 27th February my Centre for Social Informatics colleagues Peter Cruickshank and Dr Frances Ryan are hosting a free workshop at the Edinburgh Napier University Merchiston campus as part of the Digital identity security information practices of citizens (DISIPRAC) project. The event has been designed for information professionals, citizen support and advocacy groups, and other stakeholders, who work with adults in the community. A number of travel bursaries are available to provide financial assistance for participation at the workshop of those based beyond Edinburgh.
The format of the day includes discussion of scenarios associated with facilitating access for others to services provided by UK, Scottish, and local governments. Through the activities planned, the project team aims to add to current understanding of the issues that information workers face when supporting (potentially vulnerable) citizens to access online information. A particular focus will be the increased levels of security required to engage with the government systems integral to citizens' everyday lives.
Please register for this event on EventBrite (and apply for a travel bursary, if required) at https://www.eventbrite.co.uk/e/workshop-digital-identity-security-information-practices-of-citizens-tickets-91283327891 by Monday 17th February 2020.
For further information about this event, please contact Dr Frances Ryan (f.ryan@napier.ac.uk) or Peter Cruickshank (p.cruickshank@napier.ac.uk).