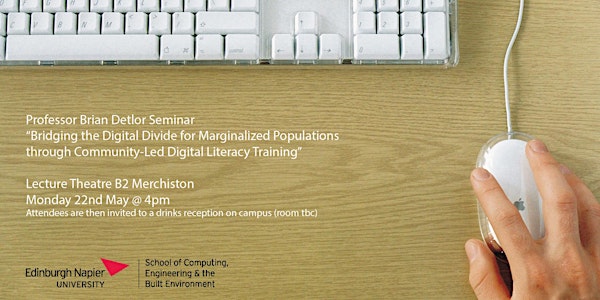 Dr Brian Detlor, Professor and Area Chair (Information Systems) at the DeGroote School of Business, McMaster University, Canada, and Visiting Professor to the Social Informatics Research Group at Edinburgh Napier University, will be in Scotland next month.
As part of a programme of activities over the course of his visit, Brian is giving a presentation entitled 'Bridging the digital divide for marginalized populations through community-led digital literacy training'. This takes place at 4pm on Monday 22nd May on Edinburgh Napier University's Merchiston campus. The presentation will be followed by drinks reception.
This is a public lecture, open to all, with registration free of charge on EventBrite. If you are interested in digital literacy, do please sign up and come along to hear Brian speak about the challenges and successes of digital literacy training initiatives in Canada.
The full abstract for the presentation reads as follows:
From communicating with loved ones via social media to surfing the Internet, digital literacy keeps us more connected and better informed. It also enriches lives. Being digitally literate is a requirement to thrive in today's digital world. Digital skills are needed to better access health information and government services, reduce social isolation among friends and family, and defend oneself against online threats such as phishing scams and identity theft.
However, due to barriers affecting access to the Internet and digital devices, many people from marginalized communities (such as older adults, newcomers, and youth facing employment barriers) lack the means by which to gain sufficient knowledge to become digitally literate. In response, community organizations, such as public libraries and social service agencies, fill the gap by providing free or low-cost digital literacy training opportunities to marginalized community members. However, how best to deliver such instruction is not well-understood. Neither are the challenges confronting such delivery, as well as solutions to overcome such obstacles.
This presentation reports on recent research findings that provide theoretical contributions and practical recommendations in this problem area. Organizational factors that foster or challenge digital literacy training initiatives are described, as well as user considerations that impact community member uptake, digital literacy skills development, and digital literacy appreciation. A case study is also described of the utility of a community partnership approach between public libraries and seniors' organizations to deliver digital literacy training to older adults.
The presentation also provides an overview of the next steps in the presenter's research agenda in this space both currently underway (e.g., national surveys to public libraries across Canada) and planned (the use of a mobile learning lab/trailer that offers instruction and technology support to vulnerable seniors living in social housing).