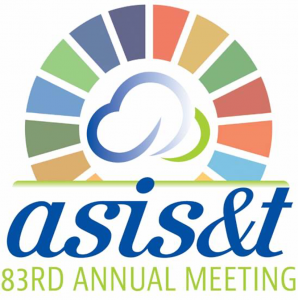 My Centre for Social Informatics colleague Dr Bruce Ryan and I are delighted that our short paper 'Research Impact Value and Library and Information Science (RIVAL): development, implementation and outcomes of a Scottish network for LIS researchers and practitioners' has been accepted for presentation at the (virtual) 83rd Annual Meeting of the Association for Information Science and Technology (ASIST2020). We are grateful to our Centre for Social Informatics Visiting Professor Brian Detlor for providing internal peer review feedback on an early draft of our paper, especially since the acceptance rate for short papers at the conference this year was just 48% this year.
Our paper is about the implementation of our Research Impact Value and Library and Information Science (RIVAL) project, which is supported by a Royal Society of Edinburgh Arts and Humanities Research Network Grant. In our presentation we will discuss the project outcomes to date, and the future anticipated contributions that this work will make to theory and practice in library and information science. We will also (inevitably) make mention of the coronavirus pandemic and the disruption that this has caused to the delivery of two of our four scheduled face-to-face RIVAL network meetings in 2020.
We will be presenting this work online on a date between 25th and 29th October 2020 (to be confirmed when the full conference schedule is made available). In the meantime, the full text PDF of the paper manuscript can be freely downloaded from its record on the Edinburgh Napier University repository web pages.