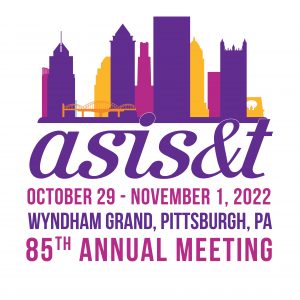 The 85th Annual Meeting of the Association for Information Science and Technology takes place in Pittsburgh, Pennsylvania this week. Those of us who cannot be there in person have been following the conference proceedings on Twitter at #asist2022 over the past couple of days.
Amongst the conference speakers is Centre for Social Informatics PhD student Rachel Salzano. Today at 15:00 UK time (09:00 in Pittsburgh) Rachel is presenting a paper co-authored with her PhD supervisors entitled 'What are public libraries for? Culture as a determinant of conceptualizations of public library services for forced migrants'. The slides are available on SlideShare, and the full text paper can be read online in the conference proceedings.
At an awards ceremony held during the opening plenary session of the conference on Sunday, the conference organisers presented Rachel with a certificate to acknowledge that the conference paper track chairs placed this output second in the Conference Long Paper Awards (as can be seen in the full list of accepted papers).
The content of the paper is concerned with some of the preliminary findings from Rachel's doctoral research. These relate to service gatekeeper perceptions of public libraries and the value of such services to forced migrants. The findings are drawn from a partial analysis of interview data that was completed in early 2022 (and which contributes in part to Chapter 6 of Rachel's full PhD thesis that was submitted for examination last week). Three gatekeeper conceptualisations of public libraries are identified here: (1) as leisure services; (2) as information services; and (3) as part of a larger system of functions that includes others such as immigration and policing, as are the cultural factors of social norms and information value as their determinants.
The best of luck to Rachel when she presents today!