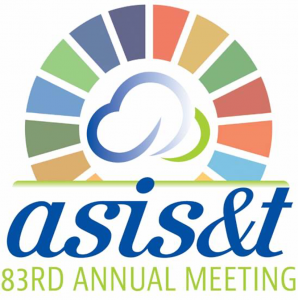 Following three days of virtual pre-conference workshops and the annual doctoral colloquium, the annual meeting of the Association for Information Science and Technology 2020 'proper' opens today.  The opening keynote speaker is Houman Haddad, Head of Emerging Technologies, United Nations World Food Programme (Nobel Peace Prize winner). He will present to the online audience on blockchain technology for humanitarian assistance at 09:00 EDT (13:00 GMT in the UK).
Several members of the Centre for Social Informatics are making co-authored contributions to ASIST 2020:
Tomorrow on Monday 26th October at 11:00 EDT (15:00 GMT in the UK), our Visiting Professor Brian Detlor of McMaster University Canada is presenting a poster entitled 'Success factors affecting digital literacy training initiatives' led by local community organizations'. His poster co-author is Professor Heidi Julien of the State University of New York at Buffalo (and visitor to our research group in 2016). The work to be presented concerns an in‐progress research study to explore the factors that affect the success of digital literacy training initiatives led by local community organisations, including public libraries. The full text of the poster is now available in the conference proceedings.
On Wednesday 28th October at 11:00 EDT (15:00 GMT in the UK) PhD student Rachel Salzano is presenting a poster co-authored with two of the supervisors of her doctoral study (myself and Dr Gemma Webster). Entitled 'Corralling culture as a concept in library and information science research', the content of the poster is concerned with some of the main findings from the literature review that Rachel has completed for her doctoral study:
While culture is cited in the as an important influence on resource use in the library and information science literature, few researchers define culture as a concept in their work, nor do they explore in detail the factors that the term comprises.
In this work culture is used primarily in two ways: (1) to differentiate groups of library users; and (2) to draw attention to questions of integration.
The full text of this poster is already available in in the conference proceedings, and the manuscript is also held in the Edinburgh Napier repository.
My own contribution to ASIST 2020 is also on Wednesday 28th October. At 16:30 EDT (20:30 in the UK) I will be delivering a paper entitled 'Research Impact Value and Library and Information Science (RIVAL): development, implementation and outcomes of a Scottish network for LIS researchers and practitioners'. In this paper, which I co-authored with my colleague Dr Bruce Ryan, I will discuss the implementation of the RIVAL project, its outcomes to date, and its anticipated future outcomes in respect of theory and practice. The full text of our paper can also be found in the conference proceedings, with the manuscript available from the Edinburgh Napier repository. The slides can also be viewed on SlideShare.